Latest Taleemi News June 2020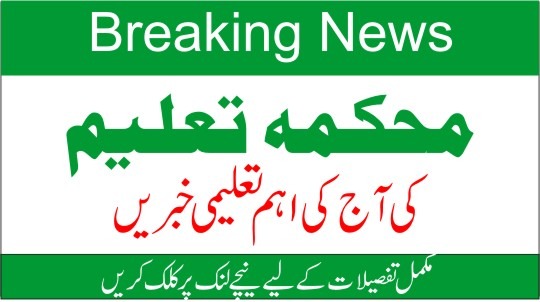 Latest Taleemi News June 2020
(1)School Education Department News
(a)E-transfer
*Update Your SiS App to latest Version 5.1.2 for All Latest Updates About E-Transfer
Most Urgent  
TOP PRIORITY   Time limited  Dated:13-6-2020 Saturday
Respected DEOs/Dy.DEOs/AEOs/Heads Of Institutions Of High and Higher Secondary Schools :
I am directed to inform  you that Options for Pending Promoted/Disposal/Surrendered /On Administrative post teachers have been given by SED,on SIS for their adjustment through E Transfer to all such teachers.
These teachers are directed to apply on SIS and submit maximum options (Minimum 15) priority wise.
You are requested to intimate all these teachers through school order book register immediately .All DEOs will submit a certificate in Dy.DEO SE HQ Gujranwala Office that all their remaining promoted/Surrendered /Disposal/On Administrative Post teachers have applied for their adjustment on SIS with maximum options.If any teacher feel any problem regarding SIS, he/she may consult Dy DEO SE HQ Gujranwala
#Modification
For Mutual Transfer With Other District Teacher i.e. From One District To Other.Exp: Lahore to Sailkot, Gujranwala etc
Helpline
For any kind of complain/issue/problem regarding current Transfers 2020 then Send your complain/problem/issue to these official Emails of School Education Department
Timeline
For E-Transfer 2020 Timeline and other information Click This Link: https://tmsforall.com/etransfer-2020/
(b)PEC_NEWS
Punjab Examination Commission Issued Cheques to all the CEOs (DEAs)Punjab for the remuneration of supervisory and marking staff regarding Grade 8th Exams with direction to disburse within 30 days.
(c)Teachers'Concern About Budget 2020
Chief Minister Punjab Sardar Usman Buzdar has rejected the proposal about deduction in salaries of government employees.He said that government was in favour of giving relief to the employees.On the other hand Schoolteachers of Punjab expressing serious concern over no increase in salaries and pensions of government employees in federal government's budget for fiscal year 2020-2021 observed that it was like 'burying them alive."They said they would start country wide protesting on this issue very soon after consultations.
Latest Taleemi News
(2)Punjab Public Service Commission(PPSC)
Interview Schedule Postponed 
The interviews for the all posts have been postponed from 15-06-2020 to onward. New dates of interviews will be communicated to all candidates in due course of time.Click for Detail
(3)Higher Education Commission (HEC) News
The federal government has made an allocation of Rs 29470.000 million to Higher Education Commission (HEC) in the annual budget for the year 2020-21
Punjab Minister for Higher Education Raja Yasir Hamayun Sarfraz on Tuesday held a meeting to review developments in e-transfer policy of college teachers so we can expect that E-Transfer of college teacher will soon start.
(4)TEVTA_News
Punjab Technical Education and Vocational Training Authority (TEVTA) has launched five E-learning Programs with its partner for possible economic opportunities.Detail of these courses are given below
Artificial intelligence

Data analyst

Data sciences,

E-commerce training, and digital marketing

SEO
For Detail visit TEVTA Official website:http://www.tevta.gop.pk/
(5)BISEs_News
Class 9th Registration Schedule 2020 Issued.The schedule is given below
Admission in Class-IX without late fee

01-07-2020 To 31-08-2020

Admission In Class lX With Late Fee Of Rs.500/Per Student(payable to Board)

01-09-2020- To

15-

09-2020
(6)University Of Punjab Lahore News
*The last date for submission of admission forms of M.A/B.Com and LL.B all parts with single fee has been extended to 26-06-2020.
*Punjab University Registration Branch has also extended the date of submission of registration forms for MA/MSc and Associate Degree in Commerce annual examinations 2020 with double fee till 22-6-2020
 *According to PU spokesman, the exams of B.A./B.Sc. Part-II will be held from July 22 while exams of M.A./M.Sc. Part-II & B.Com. Part-II will be held from September 07. The spokesman clarified that for these Part II examinations, the students should prepare themselves for both traditional and MCQ based online examinations.
Announcement for the Under Ehsaas Undergraduate Scholarship Awardee:For Detail click below link
http://pu.edu.pk/home/section/exam/10695
Online Admissions open at Skill Development Centre, Univeristy of the Punjab! For details: https://facebook.com/SDCpuu/
(7)University Of Sargodha News
*UOS:MA/MSc Admission Date with Single Is: 15 June 2020 Apply Online
(8)Bahaudin Zikriya University Multan News
*LLB(3 years 5 years)2nd Annual admission 2019 last date with single fee is:23 June 2020
 *LLB(3 years 5 years)2nd Annual admission 2019 last date with double fee is:30 June 2020
Single Fee:4000 Double Fee :8000
*MA/MSc Registration Schedule for the annual exams 2020 issued for private candidates
Last date to apply online is 13-07-2020 with single fee Rs:2500
*Registration Schedule of Associate Degree(Arts/Science) BA/BSc for the annual exams 2021 also issued for private candidates
Last date to apply online is 24-07-2020 with single fee Rs:2500
(9) Riphah International University Lahore
Riphah International University Lahore has announced Admission for session 2020. Application are invited for following MS/M.Phil(18 years),Master(MA/MSc),Bachelor,PG Diploma/Certifiate,Doctorate,Diploma/CERT(After INTER) degree programs.
 (10) UMT
Admissions for the Fall-2020 semester are now open. Choose from 140+ degree programs of your choice. Apply Online!
https://admissions.umt.edu.pk
Get Latest Taleemi News On your visit TMS on Social Media as well as TMS website
Thanks